One thing you never, ever have to buy new.
A lamp is one of the easiest things in the world to change and very readily available now that brass has packed up and headed out of town.
If you missed my first two lamp posts, you can find them
here
and
here.
The first lamp came from my grandmothers back porch. It's a gorgeous lamp with a lot of detail. The brass just didn't go with anything that I had goin' on, so I pulled out my sandpaper, clean metal primer, and Pewter Gray spray paint. I refinished them the same exact way I did all
my doorknobs
.
For the shade, I used some spray adhesive to attach some drop cloth. The colors blend perfectly together. And the coolest part about this lamp? It's got a little switch down at the bottom that you twist to turn it on!
This is also a pretty decent view of my next refinishing project. It's a working record player cabinet that is about to get the works! When I switch picture angles, you can also see 3 more lamps that are in process :o) I promise I'm not a strange lamp-lady!
This one I found in my mom's closet. I did it awhile back, but I wasn't sure how I felt about it so I didn't share it. As it turns out, I love it... it just took a little while to grow on me. (Can I say "it" any more in that sentence? I counted six...)
I sprayed the lamp with a color called "Bright Idea". If you want to see a much cooler lamp in that color, go see
Amy at A Little Piece of Heaven
. I think that's my favorite lamp...ever!
For the shade I used a
Tutorial by Stephanie Lynn
on how to make faux curled rosewood. Her wreath is gorgeous and I was originally going to cover the entire shade, but I burned myself 1 too many times and decided to create a pattern. I really heart it now.
I think of lamps as the icing on the cake. It's a cheap way to stick your signature in a room. It takes maybe 10 minutes to spray paint a lamp and I can't tell you how many conversations they start. It's usually the first things people notice in a room. Go to goodwill and find a $5 lamp with a fun shape and see what happens. It's easier than you think :o)
My next attempt?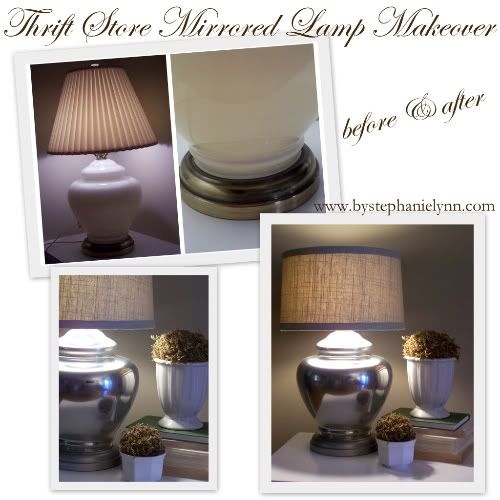 But I can't find that stinkin' paint anywhere!? Any suggestions?
Have a great night!
Katie
Partying Here:
The Idea Room
The Shabby Nest
Tatertots and Jello
Be Different, Act Normal
One Artsy Mama
Under the Table and Dreaming
Craft-O-Maniac
Yesterday on Tuesday