I love when I get a feature from a place I have never been before because I love finding new, fun blogs to stalk.
Jennifer over at
Social Salutations
has some really fun things going on so go check her out!
She featured my claw foot tables on her post today. LOVE the other things she featured to!
Thanks Jennifer!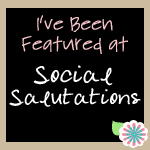 She has some really awesome creations over there too including this nursery! Almost makes me want to have another baby... or at least someone I know to have a baby so I can help decorate their nursery :o)
I love when great blogs fall right into your lap!!
Thank you so much for the feature ladies. A very sick 3 year old can make for a rough day so thanks for the bright spot!!
-Katie